Canada Job Grant
The Canada Job Grant is a skill and trade training program established by the Government of Canada. It is funded by the Canada Job Fund, but each province or territory is responsible for implementing the program in that region. The individual schemes are as follows:
Canada-Ontario Job Grant (COJG)
British Columbia Employer Training Grant (ETG)
Canada-New Brunswick Job Grant (CNBJG)
Canada-Nova Scotia Job Grant (CNSJG)
Canada-Saskatchewan Job Grant (CSJG)
Canada-Alberta Job Grant (CAJG)
Canada-Manitoba Job Grant (CMJG)
Canada-Newfoundland Job Grant (CNJG)
Canada-Prince Edward Island Job Grant (CPEIJG)
Leading Edge Group can provide Lean and Agile Training for your organisation that is eligible for funding through these schemes and provide you with the information required to apply. Each scheme varies, but most employers are eligible for between $5,000 and $15,000 worth of training through the Job Grant.
Here's an example of how the Canada-Ontario Job Grant Program works: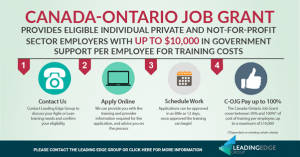 If you would like to learn more about how the Job Grant works in your region and how much funding you are eligible for, please contact us today.