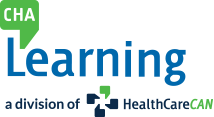 Developed and delivered by our partner CHA Learning, the People-Centred Care Leadership Certificate program will enable healthcare professionals at all levels to lead healthcare change and improvement in partnership with patients, families and providers. Participants will learn how to engage, partner and build relationships that enable people-centred care and will be able to champion culture change in their organization or team. The leadership skills, practical knowledge and capabilities acquired will be immediately applicable in the work environment. This program also includes opportunities for ongoing self-reflection and practice improvement, application of learning, and interaction with peers and faculty from across Canada.
This applied program is delivered through flexible, online study and is supported by faculty teams made up of a healthcare system expert and a patient partner.
It is suitable for healthcare professionals of all levels and working in all parts of the health system. It is also suitable for teams wishing to learn together.
There are three courses and a final project:
Course 1: Foundations of People-Centred Care
Course 2: Enablers of People-Centred Care
Course 3: Applications of People-Centred Care
Course 4: Applied Final Project
For more information, visit the CHA Learning Website.