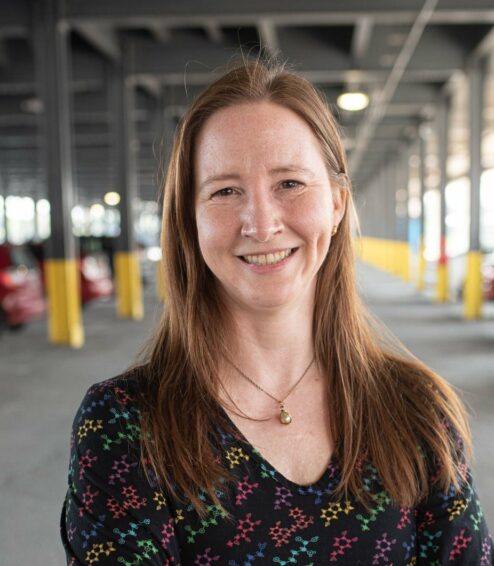 Julie Fournier
Lean Consultant
Julie is a Lean Six Sigma Master Black Belt and a Toyota Kata coach with a strong conviction that humans work their best when supported by efficient processes. The intersection of technology, humans and methods has shaped her work through her roles as process improvement practitioner, strategic advisor and manager. Having participated in several changes — technological, clinical, and structural — in the organization of care and services, Julie has acquired a deep knowledge of the challenges of healthcare's complex ecosystem.
Julie started her career in manufacturing engineering with Sanmina-SCI, as a product engineer in charge of complex telecom product lines. Her passion for optimization had her move to Urgences-Santé, with roles in continuous improvement, operations research and business intelligence. She then joined a regional healthcare administration where she oversaw pre-hospital care, emergency measures and integrated trauma care. She continued as a logistics manager with the Mortimer B. Davis Jewish General Hospital in Montréal implementing state of the art medical supplies management processes and distribution to the point of use.
Her "can-do" attitude and ability to solve complex problems make Julie a versatile collaborator with skills ranging from processing data sets in python to facilitating strategic workshops with government officials. Julie is a licensed professional engineer and holds a Bachelor in Industrial Engineering and a Masters in Healthcare Systems Engineering from Polytechnique Montréal. She publishes articles and case studies in The Lean Mag and Cost Management.

North America - Canada
60 St. Clair Avenue East Suite 805,
Toronto, ON,
M4T 1N5,
Canada
Tel: +1 (416) 637 5074
Email: info@leadingedgegroup.com
Oceania - Australia
LEI Group Australia
1/76 Heller St
BRUNSWICK WEST
VIC 3055
Tel: + 61 (03) 9854 6136
Email: info@leadingedgegroup.com