Digital Lean
Organizations are re-evaluating their business models and efficiencies to meet the changes and challenges resulting from unprecedented developments such as COVID-19, Brexit and accelerated advancements in  technology. For some, it is a means to stay competitive, for others it is a means to stay in business. There is wide acknowledgement that we need to look at digitalizing the way we work to ensure that we will evolve in line with these strong external forces.
Digital Lean Transformation is the process of using Lean practices and Digital technologies to dramatically improve your operational performance and customer experiences. It will drive innovation within your team and enable you to reimagine your organization.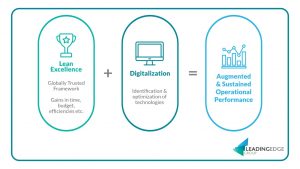 The Benefit of Lean + Digitalization Combined
Enhanced competitiveness
Greater operational efficiencies
Support the next layer of automation
Freeing up your team to work on value-add activities – 'optimizing brain power' – engaging and developing your employees during a time of rapidly evolving work practices
Facilitate a greater Digital mindset in your organizational culture
Digital LeanStart Program
The Digital LeanStart program will support your development of a Digital Strategy and Roadmap to optimize your operational performance. Our team of Lean & Digital experts, with over 25 years' direct experience, will work with you to identify areas for improvement in your key business processes and to, collaboratively, identify technological building blocks for future integration. As a result, investment in digitalization will be linked to the specific goals of your organization.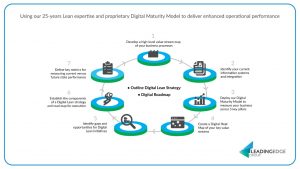 For our Irish clients, The LeanStart offer from Enterprise Ireland & IDA Ireland now also includes funding for a Digital Lean engagement for small and medium enterprises. Our team will work with a client over a 7 day period to develop an outline Digital Lean strategy and roadmap.