Continuous Improvement at the City of Mississauga – 2018 Award Winners
Leading Edge Group is delighted to announce that the City of Mississauga has been selected as the winner of our International Continuous Improvement Excellence Award for 2018. This award is presented annually and was established to recognize excellence across an organization in adopting a sustainable culture of continuous improvement.
The City has worked with Leading Edge Group for two years and, throughout this time, has demonstrated a true top down/bottom up alignment and engagement for Lean, from the Council to front line staff.
Some of the City's achievements include:
Lean certification and training: 2,500+ White Belts; 25 Yellow Belts; 55+ Green Belts and 2 Black Belts Belt trained to date
Continuous improvement projects: 97 completed projects; 2,000 'just-do-it' daily improvements – resulting in over $9.4 million in cost savings and cost avoidance
To recognize this immense achievement, an award ceremony took place at the Mississauga Civic Centre.
Please join us in congratulating the City of Mississauga!
You can read more about the award itself and view photos from the ceremony here.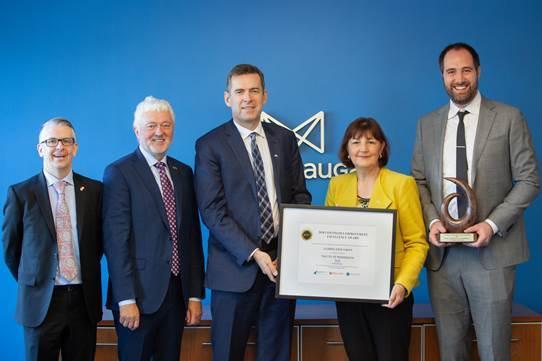 [L to R]: John Whelton, VP Operations, Leading Edge Group; Joe Aherne, CEO , Leading Edge Group; Gary Kent, Commissioner of Corporate Services and Chief Financial Officer, City of Mississauga; Janice Baker, City Manager and Chief Administrative Officer, , City of Mississauga and Wes Anderson, Manager, LEAN Program, , City of Mississauga.