Supply Chain Health Check
This assessment interrogates the following supply chain elements:
Core processes and effectiveness of same – are they sufficiently integrated?
Structure/organisation – both current and proposed
Systems – both manual and automated.
Costs/Performance – internal evaluation and external benchmarking. How do you compare?
Policies/Procedures – both oral and written. Are they being adhered to?
Working Capital exposures – what are the root causes?
Stock inaccuracies and stock outs – are there regular cycle counts?
ERP and planning effectiveness – online and off-line reports
Communications and culture – what impact on overall performance?
Overall risks and exposure – can they be quantified?
What typically can optimised supply chains deliver to enhance shareholder value?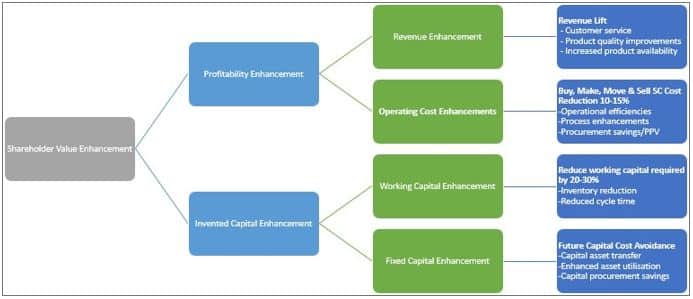 We initially deploy our Supply Chain Healthcheck tool which is a proprietary system for performing an independent review of the current state of your Supply Chain supported by a series of process maps.
The assessment will involve gathering information through interviews and analysing of data provided by the Supply Chain, Finance, Business Units and other relevant functions. Interviews will be conducted with key managers/staff in the supply chain and supporting functions.
Information sought will relate to the overall strategy of the business and future plans; how the supply chain functions and how it has evolved. Managers will also be asked their opinions on the desired level of supply chain performance and recommendations for improvement.
Having compiled the necessary data and observations, a gap analysis will be prepared highlighting differences between actual performance and the desired state.
Approach
The assessment is a holistic systems approach to analysing your SCM processes and systems. It is a process reference model which integrates the well-known concepts of business process reengineering, supply chain cost drivers, benchmarking and process measurement into a cross-functional supply chain portfolio of recommendations and a roadmap.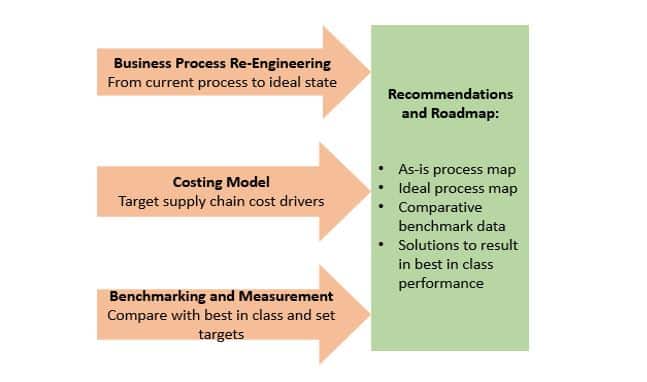 The main areas to be examined include:
Operations, planning and control systems
Demand interpretation/execution
People and structure
Supply chain organisation and capability
Application of systems as they effect the supply chain
Metrics for above
---
Methodology

| | | |
| --- | --- | --- |
| Activity | Deliverable | Inputs |
| 1. Meetings with Senior Leadership Team | Receive feedback from key stakeholders to identify SCM process capability/maturity | Face to Face Interviews |
| 2. Physical Plant Assessment / Observation | Detailed overview of SCM operations | Staff resources familiar with the overall SCM process |
| 3. Review of P&L and Balance Sheet | Identification of Supply Chain Costs as input to key SCM Metrics | YTD management A/Cs & Year on Year comparisons |
| 4. 1 on 1 meetings with key SCM Staff | Detailed feedback on areas of highest exposure and opportunities for improvement within the Supply Chain | Staff availability |
| 5. Complete Process Mapping of Current State | Definition of both information and physical flow of SCM activities with relevant metrics | Access to all key contributors/stakeholders |
| 6. Benchmark key Metrics | Benchmark against key industry metrics | Company metrics |
| 7. Review Service Level Agreements | Overview of performance to expectation re: main SLAs | All current SLAs |
| 8. Develop Cost Model | Costing of SCM activities based on output of process mapping | Process map and detailed cost elements |
| 9. Map the Desired Supply Chain Model | Proposed future state map – process, structure, systems, organisation | All inputs to date |
| 10. Complete Gap Analysis | Identify gaps and disconnects | All inputs to date |
| 11. Present SCM Healthcheck highlighting gaps, and recommendations. | Validate and agree findings | Senior Leadership Team |
| 12. Publish Supply Chain Healthcheck Report. | Fully costed supply chain modelHealthcheck findings and gap analysisBenchmark resultsPortfolio of recommendationsProposed SCM Future State and strategic direction. | All of above |