What are the key steps involved in transforming existing training material for online virtual delivery?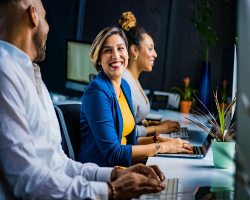 Transforming training content for online virtual delivery should be based on industry best practices and adapted to best suit specific learning outcomes. The objective of this approach is to create a positive, engaging, inclusive, and supportive learning experience for all participants.
The use of text, video, learning interactions, and mini-assessments should all be considered to keep the learner engaged and motivated.
The following are some of the key steps involved:
Develop guidelines and parameters for transforming existing training material for online delivery.
Identify instructional goals and learning objectives.
Advice on how to restructure the content suitable for online delivery. This will focus on key course areas with the objective of distilling the information into meaningful chunks of learning material.
Develop an instructional strategy that will foster learning including engaging the participants with pre-instructional activities; presenting new content with examples; demonstrations of new skills that are related to the 'real world' and appropriate follow-through activities.
Review the technical supports required for effective delivery. Consideration may be given to discussion forums and supports through integrating the use of apps such as Yammer, Trello, or Slack.
Transform the existing training material into meaningful topics/lessons. Determine the best fit of media for learning objectives.
Develop or enhance mini-assessments and feedback to enable learners to practice in line with desired learning outcomes and certification requirements.
Redesign training materials for online delivery in line with the final learning strategy and plan.
Please contact the Leading Edge Group to meet your online virtual training needs at info@leadingedgegroup.com or visit our sister website www.leadingedgenow.com.